---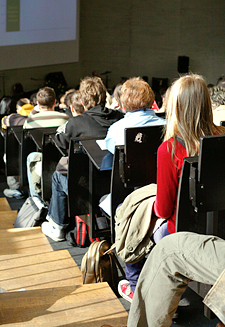 ---
---
Documents
Introduction to IT services for students
Flyer 2016 eng.pdf (793.9 KB) vom 07.10.2016
---
Contact
Helpdesk
phone: 0345 55 21 888
helpdesk@itz.uni-halle.de
Kurt-Mothes-Str. 1
06120 Halle (Saale)
Sie erreichen uns
Montag - Freitag von
9:00 Uhr - 15:00 Uhr
---
---
Login for editors
---
Introduction to IT services for students
Overview
Student portals
Löwenportal
In the online portal at loewenportal.uni-halle.de, you can amend your personal details, register or cancel your registration for modules and exams, and view your grades. It is also possible to print out current certificates of study and to re-enrol online for the forthcoming semester.
Löwenportal to go
With the help of our "LöwenApp" you will find your grades, modules and courses. You can also search for modules and courses and you can download the module descriptions as PDF files.
Your Examinations Office will help you if you have any problems registering for exams or modules, cannot acces your grades, or have trouble with similar issues.
If you have any questions or problems relating to the preparation of certificates, changes to your address, telephone number, etc., registration or getting your TAN list to work, email us at ssc@uni-halle.de, quoting your matriculation number.
Stud.IP
The MLU's communication and learning platform Stud.IP can be accessed at studip.uni-halle.de. The entire university schedule can be found here and filtered by various search criteria; you can draw up your own individual timetable, access lecture materials and additional e-learning content.
The latest information, instructions, tips and tricks on how tu use Stud.IP are contained on Youtube Uni Halle and in our blog at blog.studip.uni-halle.de.
If you have any questions, problems or comments, simply contact us by email at admin@studip.uni-halle.de.
Printing/scanning/copying
Multifunction printers which can also be used to copy and scan are located at more than ninety different sites. Once you have topped up your university service card (USC) - your student identity card - you can use it to pay fpr photocopying.
You will find detailed information and guidance on printing on the univerity network at itz.uni-halle.de/dienstleistungen/print/.
In the printing portal at drucken.uni-halle.de, you can review your list of print jobs, delete them, or download scanned documents. Print jobs which are not completed within 72h will be deleted automatically.
WLAN
Do you want to use the university's WLAN?
You can access the WLAN websites of the MLU via the open WLAN network 'wlan-howto'; you find the necessary software and installation instructions for your operating system at wlan.itz.uni-halle.de.
With eduroam, you can also log on to the WLAN of various universities throughout Germany using your access details. For further information, visit itz.uni-halle.de/dienstleistungen/eduroam.
VPN
You can use internal university services (such as searching for information in libraries) even when you are not logged on to the university network. You will have to dial up from home with a suitable broadband connection using AnyConnect-Client.
The software can be installed automatically at https://vpn.uni-halle.de.
The instructions and clients for your operating system can be found at itz.uni-halle.de/dienstleistungen/virtual_private_network/.
Email
Each student will be given a personal email address in the following format: firstname.surname@student.uni-halle.de.
You can register via studmail.uni-halle.de or an email programme with POP3/IMAP4.
In order to ensure that you do not miss any vital information from the MLU, you should check your inbox regularly or arrange for your mail to be forwarded to your private email address.
For additional information, visit:
Service portal
The site serviceportal.itz.uni-halle.de will enable you to view all the central services of the MLU to which you have access, and to alter your respective passwords.
These services include the blog service, central printing service, email account, Radius/WLAN and Stud.IP.
Please note that you will require access to your email account, as you will be sent details of how to access the service portal after first registering by email.
Helpdesk
The Helpdesk will try to assist you with any questions you may have about access problems, WLAN configurations or any other IT issues. You can contact us either by email, by phone, or by dropping in at our office.
0345 / 55 21888
Kurt-Mothes-Str. 1 (second floor, room 1.03.0) or
Universitätsplatz 10 (basement)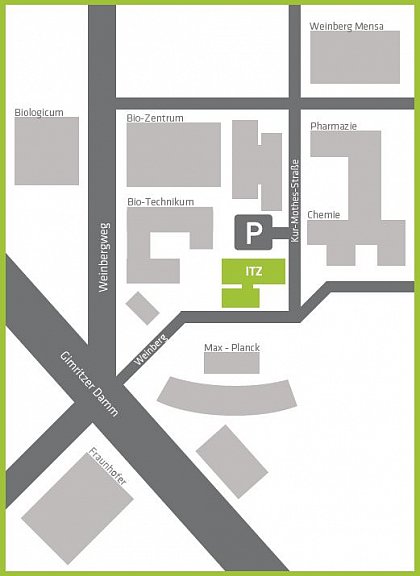 Lageplan IT-Servicezentrum
---
---